I recently went to brunch with a few friends at a great restaurant in New York City. The line was absurdly long but we'd heard the place was great, so we decided wait it out. It was pretty clear that the like us, the people waiting in the entranceway were bored, restless and envious of those already seated. Our collective behavior said it all: lots of sighing and watch-checking. Foot-tapping and eye-rolling. But the best was one girl who, while standing inside the tiny temporary winter vestibule, had written "RACHELLLL <3" with her finger in the fogged-up windows. This immediately took me back to car rides with my family when my sisters and I would get bored and draw tic-tac-toe boards on the windowpanes (much to my mother's chagrin). When there is a foggy glass surface, chances are it won't stay foggy for long. Someone always accedes to that temptation to scribble out a name or write a message to the world or make a smiley face. It's one of those weird human psychoses: let no foggy window remain untouched.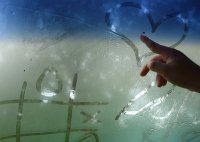 As fate would have it, I had recently come across an outrageously cool press release on the Windows of Opportunity (WOO) Project in which General Motors challenged Bezalel Academy of Art and Design to enhance a backseat passenger's car ride experience, using car windows as the working medium. With no further restrictions, Bezalel students and researchers were left to create.
A bit of background on the technology guru-superstar-sensei that is Israel: according to a New York Times article, Israel has more high-tech start ups per capita than any other nation in the world. This country has not only contributed to many of the most revolutionary technologies of our time, but has fiercely led the charge. So really, it is no surprise that GM challenged an Israeli design school to wow them. If you want to push the technology envelope, Israel will deliver with some serious digital cred.
Using motion and optical sensor technology that transforms standard windowpanes into "smart" glass, Bezalel project participants created a variety of applications. One app called Spindow gives passengers a glimpse into the view from other windows around the world. You could be driving on the bustling streets of Chicago and instantly switch the view "outside" your window to the serenity of rural Vermont. The Foofu app creates the window steam effect that allows passengers to draw, doodle and repeat. Another app called Pond has been dubbed a "virtual bumper sticker." Users can write messages on the windowpane and flip the message around so that passengers in cars passing by can read the message. This app also enables music sharing between cars on the road. Other apps featured child-friendly games and interactive activities that merge a passenger's window view with an augmented reality experience.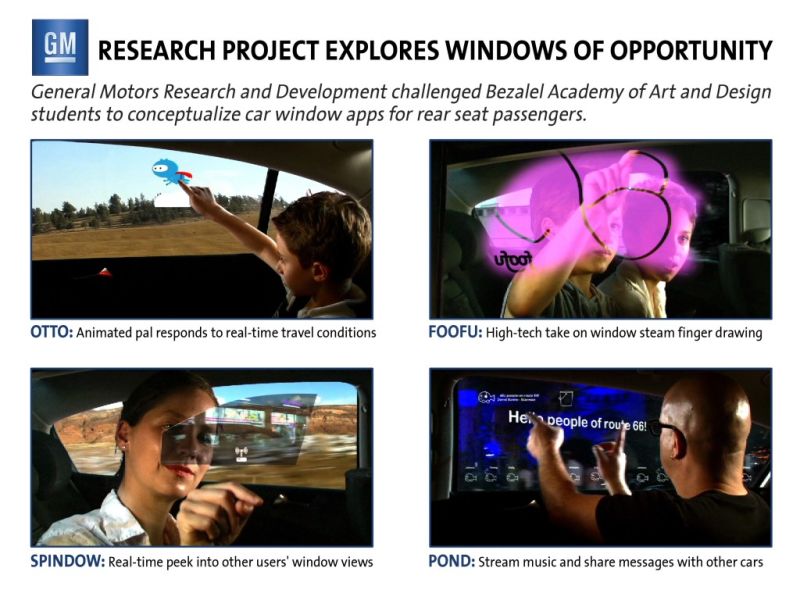 The notion of looking out your window and seeing something that is not actually there is definitely bizarre (afterall, are windows still windows if what your eyes perceive is not what lies on the other side of the glass?). Beyond that, is this type of technology something that people will crave, like they do their smartphones and the accompanying world of apps? Will there ever be a time when people look back on car models and think, "I truly do not understand how humans survived without smart windows," like we do when we think about a time without cell phones? I can't confidently say yes, but I'm intrigued enough to say…it's not outside the realm of possibility.
I think GM and Bezalel are on the right track. There is opportunity here for some wild innovation with a medium that has been largely left untouched. As Omer Tzimhoni, a member of GM's Human-Machine Interface Group, says, "The idea of connecting the content, the creativity, the new possibilities with the existing technologies and the technologies that are just about to be ready is one that we think is worth exploring."
Think of the endless tic-tac-toe games you could play on long car rides with these apps. Or how quickly you could address your need for a "change of scenery." Although none of these apps are available with GM cars just yet, I have a feeling that it won't be long before window doodles go digital.
GM Smart Windows let you Interact with the World from your Car